Scholarship
Pathfinder Scholarship
Introduction
This scholarship fund was established in 2010 by Ontario Conference Pathfinder Council.
Purpose
The purpose of this scholarship is to help our young people to achieve their educational goals by providing financial assistance to Pathfinders who are pursuing post-secondary studies on a full-time basis.
Brochure
Click HERE to download the Pathfinder Scholarship brochure.
Your Support is Needed

Partner with us in supporting our Pathfinders in pursuing their post-secondary education.
Click button below to read the letter from Chester Lewis and Pastor Edwin Martin, OCPC Executive Coordinator and Ontario Conference Pathfinder Director, respectively.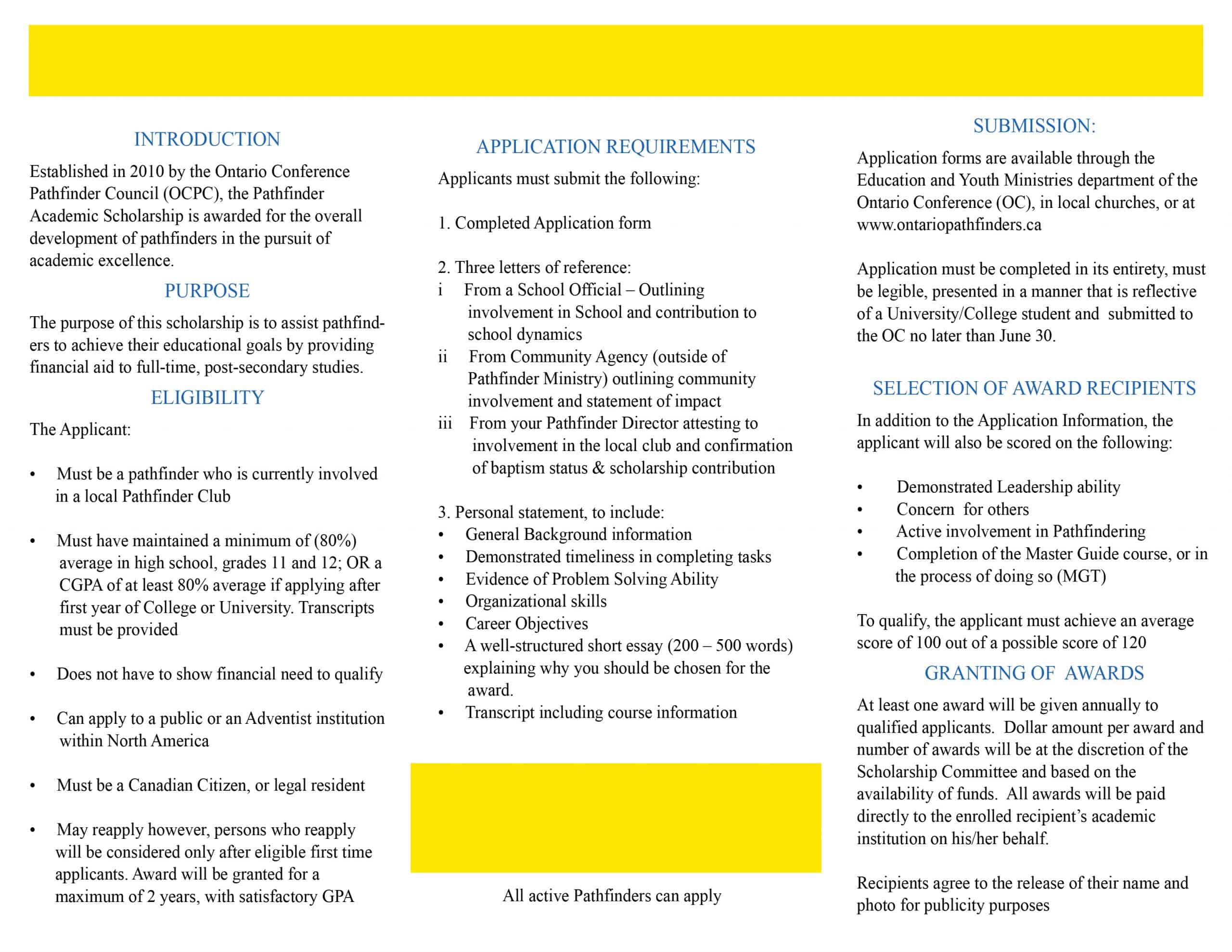 Eligibility
The Pathfinder scholarship will be awarded to Pathfinders pursuing post-secondary studies.  All applicants must meet the following eligibility requirements. The applicant:
Must be a minimum of sixteen years of age.
Must be a Pathfinder and currently involved in a Local pathfinder club
Must have maintained a minimum B+ (80%) average in high school courses grades 11 and 12
Must be a Master Guide or Master Guide Trainee.
Does not need to show financial need to qualify
Must submit all required application information.  Application must be legible and presented in a manner that is reflective of a University/College student.
Must be a citizen of Canada, (or a legal resident)
May reapply; however, persons who reapply will be considered based on availability of funds after all qualified first-time applicants have been awarded, and are eligible for a maximum of two awards.
Skills an Applicant Should Demonstrate
Leadership ability, a concern for others, involvement in the Pathfinder ministry, and should be working on completing the Master Guide requirements or have completed the Master Guide course.
The award will be given for schooling within North America.  Forms will be made available through the Education and Youth Ministries department of the Ontario Conference.  The pathfinder does not have to be attending an Adventist school to be eligible for this award.
Selection
The recipient will be chosen by the Scholarship Selection Committee. Applications must be submitted by the end of June each year.  The Scholarship Selection Committee will determine award recipient by the end of July of each year.
Awards.
Awards will be given annually to all qualified applicants.  No award will be paid to the recipient. All awards will be paid directly to the enrolled recipient's academic institution on his/her behalf.
Application Information
Procedure
Applicants must submit the following:
Completed Application form
Three (3) letters of reference:
From School – Outlining involvement in School and contribution to the dynamics of the school
From Community Agency (outside of Pathfinder Ministry) outlining community involvement and statement  of impact.
From the Pathfinder director confirming involvement in the local Pathfinder club and club's contribution to Scholarship fund.
Personal statement, to include:
General Background information
b. Demonstrated timeliness in completing tasks
c. Problem Solving Ability
d. Organizational skills
e. Career Objectives
f. A Short essay (200 – 500 words) explaining why you think you should be chosen for the award.
Transcript including course information
Please note: Recipients agree to the release of their name and photo for publicity purposes. (The photo will be required after committee has made its selection)