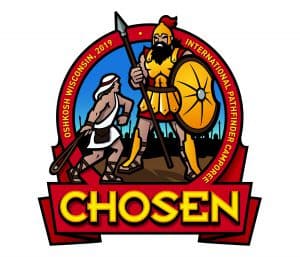 Local Registration with the Ontario Conference
Yearly Club Registration – All Pathfinder clubs should be registered with the Ontario Conference by January 31, 2019 with a minimal fee of $35 ($45 after Jan. 31st) and payment of $4.50/person for insurance coverage. ***

Also, upon registering you club, all staff members should have done their Vulnerable Sector Screening. Remember, these are all important pre-requisites for your club to be allowed to join the Ontario Conference contingents at Oshkosh camporee. Deadline for club registration: February 28, 2019.
*** Includes a maximum of $ 5 million medical coverage with AD & D ($50,000), Accidental Para-Medical Expense Reimbursement ($50,000) and dental ($2,500).
All Pathfinders, staff, parents, non-Pathfinder siblings, and volunteers who will attend Oshkosh Camporee in August 2019 should be included in the yearly club registration by January 30, 2019.
NO EXCEPTIONS
.
Local Registration for Bus Transportation and Campsite Allocation – All clubs planning to go to Oshkosh are expected to register with the Ontario Conference for bus reservation, campsite allocation, and other administrative purposes. A different fee will apply for those who will drive on their own. Remember, only those clubs that will complete this Local Conference Registration form will be eligible for space allotment at Oshkosh camporee. Online registration will be available starting January 1, 2019.
Local registration will open on January 1 until April 30, 2019.
Note:
Total number to be registered using the conference local form should correspond with the number of tickets purchased by your club as shown on the CIC website –
https://registration.camporee.org/registration/report/national#AN6111
Local Registration Cost and Deadline
Regular Registration: (Jan. 1- Mar. 31, 2019)     = $ 220.00 CAD *

Late Registration: (April 1‐30, 2019) = $ 250.00 CAD *

  * Amount inclusive of roundtrip bus transportation, administrative services, Ontario pin and t-shirt.

NOTE: Purchase of Chosen International Camporee (CIC) tickets ($195 USD each) is extra. Buy your CIC tickets first from www.camporee.org before you register with the Ontario Conference for bus transportation and camp allocation.   

For those travelling on their own vehicles:

Regular Registration (Jan. 1-Mar. 31, 2019) = $ 30.00 CAD *

Late Registration (April 1‐30, 2019)               = $ 60.00 CAD *  

* Amount inclusive of administrative services, Ontario pin and t-shirt

The Ontario Conference has reserved twenty-five (25) 56-seater coach buses to transport people to and from Oshkosh, WI. A deadline has been set by the bus company for us to confirm the final number of buses we will charter. Therefore, each club is encouraged to observe the abovementioned local registration deadlines to facilitate not only bus transportation arrangements, but also other administrative tasks such as allotment of camp space for each club, ordering of camporee shirts and pins, etc. Thanks for registering promptly.
OCPC Standing Orders - Chosen Camporee 2019
In an effort to assist Pathfinder clubs in Ontario to prepare for the Chosen Camporee in 2019, the OCPC Camporee Committee has put together the Chosen Camporee Standing Orders:
Purchase of Tickets for Chosen International Camporee
Regular Ticket Prices (Now until February 28, 2019):
Pathfinders/Staff (ages 9+)* = $ 195 USD
Children (ages 4-8)* = $   95 USD
Children (ages 0-3)* = FREE
Day Passes (ages 4+) ** = $65
Ticket Prices after March 1, 2019 until all tickets are sold out):
Pathfinders/Staff (ages 9+)* = $215 USD
Children (ages 4-8)* = $115 USD
Children (ages 0-3)* = FREE
Day Passes (ages 4+) ** = $65 @
*
Age at the time of the Chosen International Camporee, August 12-17, 2019.
** –
You must purchase a separate Day Pass for each day you wish to attend
. Pathfinders and other guests who have purchased Day Passes must find accommodations outside of the Camporee grounds. Please view nearby options by clicking the link below:
https://www.camporee.org/about/pre-planning/off-site-lodging-options
All Camporee tickets are non-refundable. However, Pathfinders and staff can transfer their tickets by selling them to another person or club. This is the responsibility of each ticket holder. CYE and the Camporee do not transfer or resell tickets.
It is the club's responsibility
to register with the Center for Youth Evangelism (CYE). To purchase tickets and for more details, go to
www.cye.org/camporee /
  or
www.camporee.org
. If your club name does not appear on CYE's list, please contact the Ontario Conference office at
905-686-5757 (Toronto Line) or 905-571-1022 ext. 212
to resolve the problem.